What if someone told you that there is an alternative to renting a car, at a price that is simply unbeatable?
What is the short term car lease program with RenaultUSA?
The time has probably come to book your car. The short-term car lease may very well be the answer to all of your needs.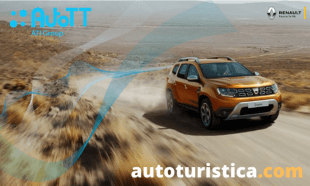 Different from a car rental with Europcar, or similar long-term car hire company, the French short term lease program, with Renault Eurodrive, always includes:
Unlimited mileage
A full comprehensive insurance without excess
A brand-new vehicle. The model, the engine and the transmission are guaranteed
A Free GPS
24-hour roadside assistance
A detailed explanation of the vehicle on pick-up
Bonus: we will pick you up from the airport for free. No more parking lot expeditions to find your car. We come to you !
Not bad, right? What if, in addition, this formula would allow you substantial savings?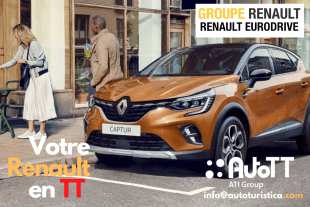 Some of Europe's major car makers offer a formula known as short term car lease. Renault and Dacia are two of them and will not only this formula help you save money, but will also make insurance hassles disappear.
The 50 years old notion behind short-term leasing, or "buy-back lease," is straightforward:
A while ago, the purchase tax on a used vehicle in France was lower than on a new car. By offering new vehicles for lease to US tourists at extremely cheap rates, French car makers participated on a supply of barely used, reduced-VAT cars that would later on be sold to car hire companies and European citizens at very competitive prices. The result was a win-win situation for all participants involved. Foreign visitors included.
Today, the taxes are the same for a used car, as well as for a new one, but Renault and Dacia keep offering this product to United States visitors coming to Europe on a tour, for studies or to work for a non-EU company in order to satisfy a growing demand on low mileage used cars.
The advantages of a short-term lease are non-negligeable:
You get a brand-new car, with "zero kilometers" – for security reasons, we do test it at the factory, so it will have 12 kilometers or less
A free GPS covering European countries
A member of our teams will explain you how the car works, and will set up the GPS with the return agency address
You don't get charged for VAT (21%), the TAX-FREE principle applies to products (cars, perfumes, clothes, etc.) but not to services. Which is why car rental companies must charge you for taxes and we don't : you are buying a service from a rent-a-car company, not a physical product
The price always includes a full comprehensive insurance, with no deductible and no extra charges for CDW or LDW.
"Free One-way": you may pick up your car at one location and drop it off at a different one if you wish. You may change the drop off location up to 4 days prior to the return date
From 18 years old with a valid drivers' license. There is no maximum age.
What countries are included in the the Renault Eurodrive insurance?
All of our vehicles are covered by a full comprehensive insurance in the following countries: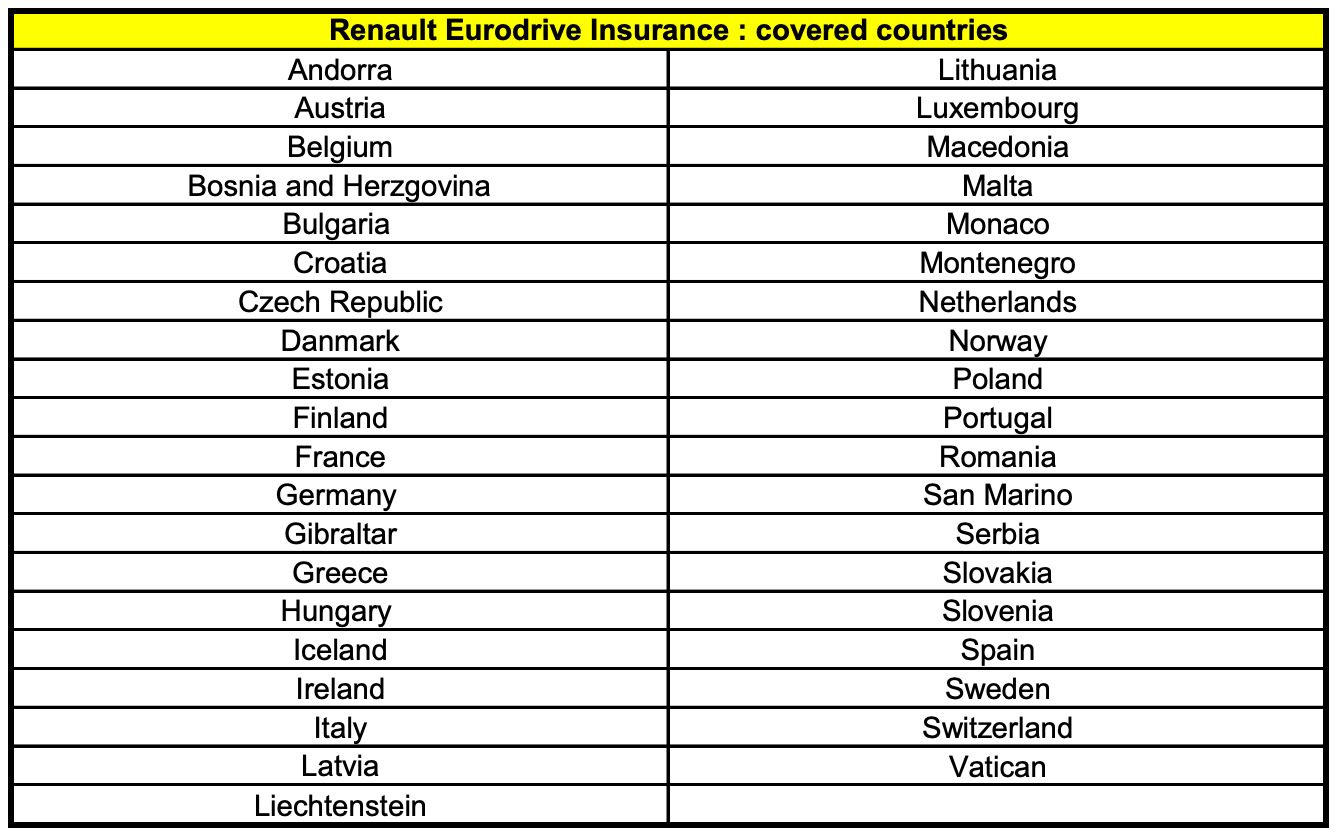 SHORT TERM LEASE COUNTRIES
"So, what is the catch", you wonder? There are very few inconvenients:
You will have to provide a copy of your non-European passport and a signed contract at least 25 days prior to the delivery date
Your fiscal address must be outside of the EU, you cannot pay taxes in any of the European community countries
There aren't that many short-term lease, tax-free cars available, so it's better to order as soon as possible, and at least 21 days before your arrival to Europe, while stocks last
---